We had perfect weather this weekend. Woke up Saturday to a warm, but drizzly day. It was just right for going shopping for plants for the flower beds and some hanging baskets. There were very few people out and about at the garden centers, so the election was much better!
One of my favorite flowers is the peony.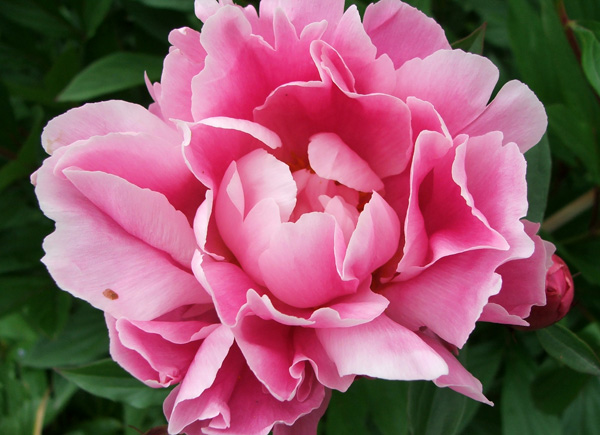 We found a fabulous deal on a herbaceous peony plant at Home Depot...originally $35, but most recently clearanced to $3! We picked one up on a whim. Now mind you, we have no idea what color of peony we picked (which is why we only got one...), because over time someone had probably switched tags around and the tag on the bucket and the tag on the plant say different things. So, it's a mystery that will have to wait until next summer, but no matter what shade, I'm sure it's bound to be a beauty!
Just a few tidbits I found out while browsing for info on care of this beauty...
Apparently peonies are important in feng shui. Putting a picture or a real peony in the southwest corner of the living room is supposed to bring good luck in marriage to daughters in the house...and potentially romance to the wife...hmmm...but it's a bad idea to put them in the bedroom, because the man of the house may stray. So, better watch where that gets planted...and keep my 3 year old DD away, LOL!
And, the origin of the name "peony" is kind of neat, too...
The peony is named after Paeon (also spelled Paean), a student of Asclepius, the Greek god of medicine and healing. Asclepius became jealous of his pupil; Zeus saved Paeon from the wrath of Asclepius by turning him into the peony flower. I'm not sure quite how it was good fortune to be turned into a flower when your teacher got mad at you...but, oh well, they're still beautiful!
There, a botany lesson, Greek history, and feng shui all rolled up in my mysterious, mistagged bargain!