Okay, I finished my card (
sending it for Aidan, too
). Here's a look... I made my own Star Wars cardstock for the card base. Then I found some fonts for different Star Wars languages (Aurek-Besh, Yavin, and Episode 1) and typed "Awarded for Bravery" around the circle. Turned that into the center for a blue ribbon for the front and cut some gold glittery stock for the center of the new Jedi Order symbol.
I am not normally a "lumpy" card maker (oh, foo-ey! I'm not really a card maker at all!), but I HAD to make this one thick. I recreated the Medal of Yavin (SW Episode 1) and a medal with the Jedi symbol and printed them on inkjet Shrink film. They came out awesome!
I inked the back of the Yavin medal with Brillance gold ink to show through the lines I had created and give it some sparkle. I found lanyard hooks at Michael's in the jewelry section and put the shrunken pieces at the bottom. I want him to be able to use the "medals" as pulls on his jacket zipper.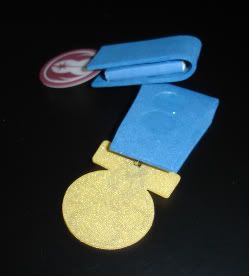 Since the pulls were thicker, I created some cushioning (and the "ribbon" part of the medal) with a piece of foam board wrapped in blue paper to cover the raw edges and them a piece of blue fun foam to give it some extra space. I made a slit up the middle of each so the jacket pull could fit up inside it.
I printed a silk "pillow" to present the medals on.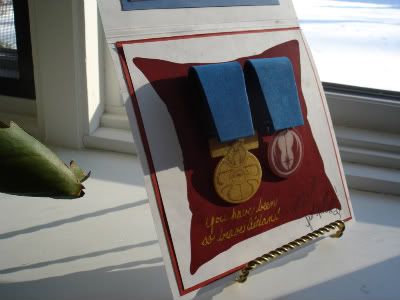 Lastly, my man Aidan loves his Knock-Knock jokes and is always making up his own (they don't always make sense...but, oh well!). I made up one to be the verse inside my card...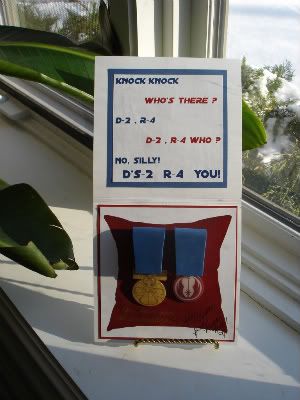 To use the jacket pulls all he has to do is gently pull the medal piece out of the ribbon.