I wanted to share some of the pics from the kiddos recent "pirate party". Aaaargh, me hearties...
Here they are at the beginning of what turned out to be a fairly prolonged "sea battle"... (That's my DD, the 4 year old B-day girl hiding squatted down in the back...she's always very hard to get photos of.)
One of my DS jumping out of the pool to attack a rival pirate with his water cannonball...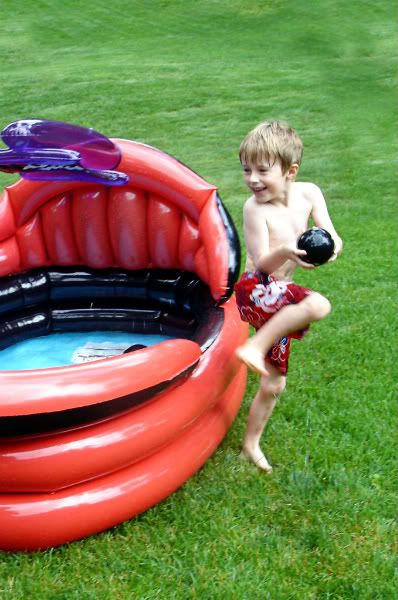 My DD's cake; it's supposed to be a desert island with buried treasure. I made a chocolate cake with a tunnel of vanilla ice cream inside, frosted with gold frosting and then sprinkled with crushed graham crackers to look like sand. Decorated the top with some cut Mike & Ikes, gold coin sprinkles, and bone shaped sprinkles. I cut the palm tree from my KNK kind of last minute that day...
This year my DS got the cupcakes! Evil skeletons pirates clutching their buckets of gold, gems, & a few old bones!